Tennis superstar Naome Osaka lit the Olympic Cauldron during the opening ceremony today, Friday 23rd July, to flag off the Tokyo 2020 Olympics in Japan.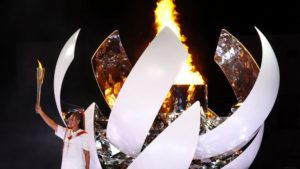 The first two torchbearers were former Olympic athletes Tadahiro Nomura and Saori Yoshida, who passed it off to baseball legends Shigeo Nagashima, Sadaharu Oh and Hideki Matsui.
Hiroki Ohashi and Junko Kitagawa, a doctor and a nurse, carried the flame to seven-time Paralympian and wheelchair marathoner Wakako Tsuchida, who was the first Japanese athlete to win gold in both Summer and Winter Paralympic Games.
The Paralympian passed the flame to six young athletes from middle and high schools from regions devastated by the Fukushima Daiichi nuclear disaster. They had the honor of passing the torch to Osaka.
"Undoubtedly the greatest athletic achievement and honor I will ever have in my life," she tweeted. "I have no words to describe the feelings I have right now but I do know I am currently filled with gratefulness and thankfulness. love you guys thank you."