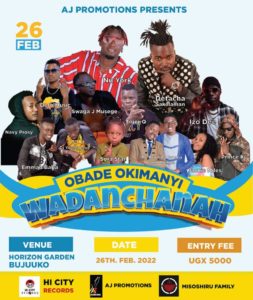 The lockdown has been fully lifted, and the party is just beginning.
Come celebrate the reopening of the entertainment industry with us at the Wadanchana festival on 26th Feb at the Horizon Gardens in Bujuuko.
There will be a wide variety of artists, including our very own Jackie Miles, so the event will definitely be fun.
Entry fee is just 5000 Ush.
Tell a friend to come with a friend too. Cheers